Presentation of the Master at Lincoln.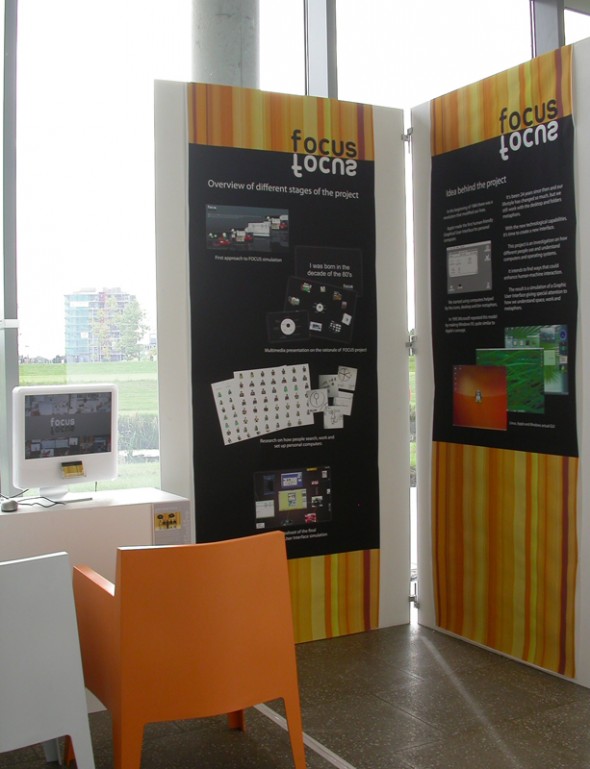 [Catalan]El passat setembre es va fer la presentació oficial dels treballs de Màster sobre Disseny a l'edifici d'arquitectura de l'Universitat de Lincoln.
Cada membre del curs va utilitzar un espai per a presentar els projectes desenvolupats al llarg del curs acadèmic i presentar els resultats de la recerca.
Va ser en aquest context que el projecte FOCUS va esser presentat al públic per primer cop. FOCUS és un treball d'investigació entorn a les interfícies gràfiques dels sistèmes operatius i preten proposar alternatives d'usabilitat i navegació als entorns gràfics actuals.
En els pròxims mesos seguire publicant informació sobre l'evolució del projecte. [/Catalan]
[Español]El pasado septiembre se hizo la presentación oficial de los trabajos de Máster en Diseño en el edificio de Arquitectura de la Universidad de Lincoln.
Cada miembro del curso utilizo un espacio para presentar los proyectos desarollados a lo largo del curso academico i mostrar los resultados de las investigaciones echas.
Fue en este contexto se presento el proyecto FOCUS de forma pública por primera vez. FOCUS es un trabajo de investigacion entorno a las interfaces gráficas de sistemas operativos y pretende proponer alternativas de usabilidad y navegacion a los entornos gràficos actuales.
En los proximos meses seguire publicando en este blog los resultados obtenidos.
[/Español]
[English]
Last September the MA of Design of the University of Lincoln organized a display of research work by students at the Architectural Building.
Each student of the MA had a space in the hall of the building
to present the projects and research output from the
academic year.
The first public presentation of FOCUS was in this context. FOCUS is a
research on Graphical User Interfaces used in the operating systems. It
intends to give alternatives of usability and navigation to the current
graphical environments for the OS.
Sometime during next month I'll update the obtained results and will publish them in this blog.
[/English]