Participació al seminari Transmedia Literacy 2013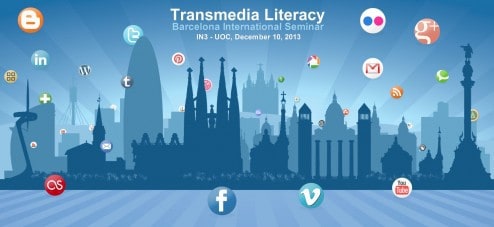 El programa de Recerca en Cultura Digital (In3 – Universitat Oberta de Catalunya) ha organitzat un seminari internacional: Transmedia Literacy. From Storytelling to Intercreativity in the Era of Distributed Authorship.
El projecte d'iAm ha sigut seleccionat per a formar part del seminari el dia 10 de desembre de 2013. Aquí podeu llegir l'abstract.
Alguns dels ponents convidats són:
Derrick de Kerckhove (IN3 — Universitat Oberta de Catalunya, Spain)Connective Intelligence from Writing to the Web
Asún López-Varela (Harvard University, USA) Spatio-temporal Metamorphosis and the Ecologies of Representation: From Analogue to Digital Formats
Raine Koskimaa (University of Jyväskylä, Finland) Playing with Time in New Media Fiction
Carlos Scolari (Pompeu Fabra University, Spain) Towards an Archeology of Transmedia Storytelling
La jornada compta amb el suport de York University, Storycode Barcelona i International Journal of Transmedia Literacy. POdeu trobar tota la informació del programa aquí: http://www.transmedialiteracy.net/seminar2013/